QTAir
Contents
Record audio in the selected application unit.
Appointment recording function is also available. (In-app purchase, 2-week trial period available)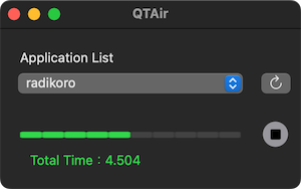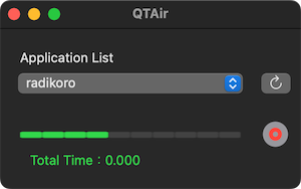 System Requirements
macOS Ventura 13 or later
The list will be updated whenever an application is started or closed, or when there is a change in the number of windows displayed on the desktop (not in real time. There will be a slight delay.) The list is automatically updated when an app is started or closed, or when the number of windows on the desktop changes.
If the list does not refresh, click the reload button to the right of the "Application List" menu to refresh it manually.
A recording file is created with the file name "Recording start time + .m4a" at a sampling rate of 48 kHz.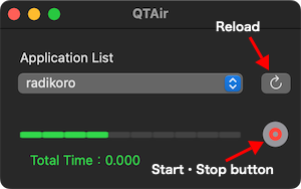 Privacy Policy
Data Collection
We record audio from the app and create a file, but we do not retain any audio or screen recordings internally.
Data Sharing
We do not share data with third parties.
Collection and Use of Personal Information
We do not send files or other information used in the app to outside parties or provide it to third parties. We also do not collect any information.
Initial Settings File
Home/Library/Containers/com.macfeeling.QTAir/Data/Library/Preferences/com.macfeeling.QTAir.plist
Contact the author
Please send us a note in the comments section below or to the support email address listed in the help section.
Privacy Policy Changes
Any changes to the collection and use of personal information as this application is upgraded will be disclosed on this page as appropriate.
5.3.0 (2023.11.21 request – Published)
[New] Added appointment recording function. (In-app purchase, 2-week trial period available)
Known Issues
You may not be able to retrieve the application list. If this happens, you will need to restart your mac.
Points to note while recording
Internally, processing is done on a window-by-window basis, so in the case of a multi-window application, do not close the first window that is opened.
QTAir
カテゴリ: Utilities
価格: 無料(macOS Ventura 13以降)